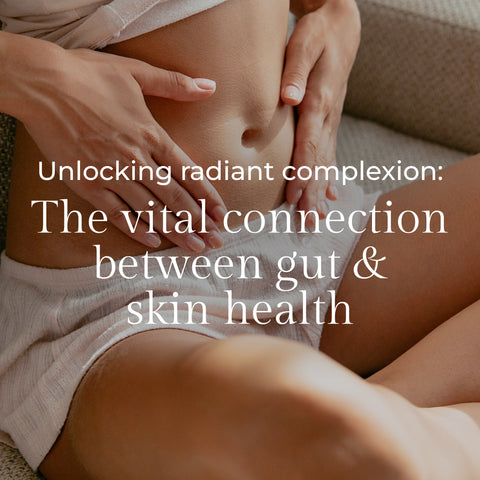 The vital connection between gut & skin
INTRODUCTION
Our body is a complex ecosystem, where various elements interconnect seamlessly. One fascinating connection is how a happy gut can lead to healthy, radiant skin. Multiple scientific research has illuminated the fact that nurturing the gut microbiome not only bolsters our digestive system, but also does wonders for our skin's health and appearance.
THE GUT-SKIN AXIS: A HIDDEN SYMBIOSIS
The gut-skin axis works like a biological network that forges connections between the gut, its microbiome, and the skin. They communicate to each other through things like our body's hormones, immune responses, and inflammatory mechanisms. A disrupted gut flora can trigger body-wide inflammation, which often shows up as skin issues like acne, eczema, or rosacea.
NUTRIENTS FOR A FLOURISHING GUT FLORA AND RADIANT SKIN
Probiotics:
These are like little helpers that live in your gut. They keep things in balance and help with your digestion. Research has shown that incorporating probiotics into your diet can significantly reduce skin problems.
The best way to take probiotics is through foods like yogurt, kefir, or fermented vegetables, or you can opt for high-quality probiotic supplements.
Prebiotics:
Think of these as a nourishing food for the friendly bacteria in your gut. Prebiotics indirectly support the well-being of the gut microbiome. This, in turn, diminishes bodily inflammation, contributing to revitalized, healthy skin.
You can find prebiotics in foods like bananas, whole grains, garlic, and onions – making them easy to incorporate into your diet.
Omega-3 Fatty Acids:
They have a special power to reduce inflammation, enhance skin elasticity, and protect against dryness. 
Omega-3 Fatty Acids are primarily found in algae and fatty fish such as salmon, mackerel, and sardines. You can also opt for high-quality omega-3 supplements, available in both vegan and non-vegan varieties.
IN CONCLUSION: A HOLISTIC APPROACH TO BEAUTY
You've probably heard that real beauty shines from within, and that's absolutely true! The link between a happy gut and glowing skin is also widely acknowledged by recent medical discoveries.
By integrating probiotic-rich foods, prebiotic fibers, and anti-inflammatory nutrients like omega-3 fatty acids, we can positively influence the gut-skin axis. Remember, a well-rounded diet and a healthy lifestyle serve as the keys for a radiant complexion and lasting overall well-being.
Please always consult with a medical professional or nutritionist before making any significant changes to your diet. Your body will thank YOU! 💜