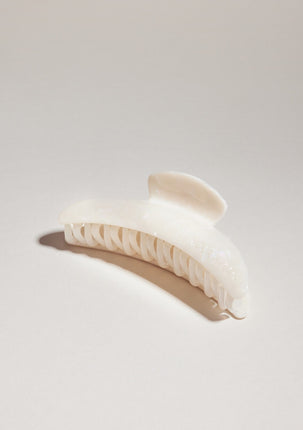 Description
Details
How To Use
This hair clip is perfect for tossing your hair up while doing your skincare routine, or simply on a Sunday morning whilst drinking a cup of coffee or warm lemon water. It's made of a light beige acetate, which can be worn perfectly in all seasons. This hair clip has a durable double grip hold, making it extra secure for all kinds of hair types to stay in place.
Made of biodegradable acetate
Drop resistant: due to the strength and flexibility of acetate, our clip is incredibly durable and made to last
Features a discrete Nourished3 logo on the side
Ergonomically shaped for a comfortable fit on the head
Length: 12 cm / 4,7 inch
Clip color: light beige acetate finish
One size fits all
Use this clip on dry or wet hair. Suitable for various hairstyles.