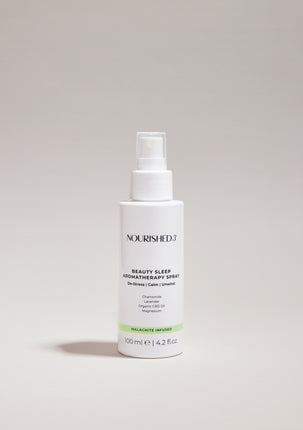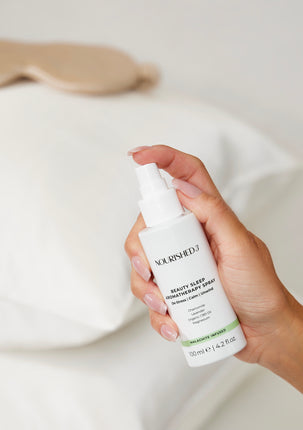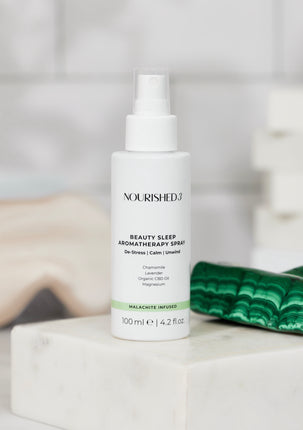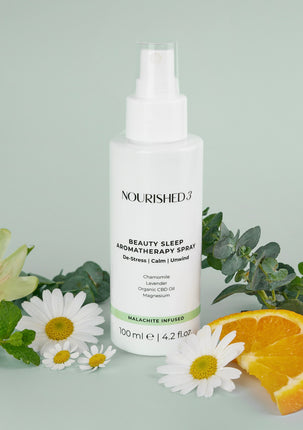 Beauty Sleep Aromatherapy Spray
$30.00
Description
Key Ingredients
Benefits
How To
The key to truly radiant, healthy skin is deep restorative sleep. Instantly melt away inner worries and stress with this therapeutic pillow spray to relax, calm and recenter.
Passionately crafted with a blissful blend of soothing essential oils such as chamomile, lavender and eucalyptus, as well as calming CBD oil, magnesium mineral and malachite crystal, to calm and balance your nervous system, so you can drift peacefully away into soothing deep sleep.
The start to your well-deserved restorative beauty sleep.
Scent description: aromatic, calming, fresh with notes of lavender, mint, eucalyptus, and orange blossom.
Luxurious, effective and non-toxic. 
MADE IN ITALY
THERAPEUTIC OILS
Lavender Oil (Lavandula Angustifolia)
As one of the most popular and loved essential oils used in aromatherapy, this oil promotes relaxation and is believed to treat anxiety, depression, insomnia, nausea and menstrual cramps.
Peppermint Oil (Mentha Piperita)
In aromatherapy, peppermint oil is promoted for treating coughs and colds, reducing pain, improving mental function, and reducing stress.  
CBD (Cannabidiol)
Provides relief for anxiety, depression and post-traumatic stress disorder. It is also known to promote sleep.
Eucalyptus (Eucalyptol)
Eucalyptus is helpful when experiencing restlessness, dizziness and can promote restful sleep, It not only helps refresh and re-energize the body, but also has a calming, soothing effect on the mind. It can also be used to reduce stress and mood disorders.
Chamomile Oil (Matricaria Chamomilla Recutita)
Chamomile essential oil is most commonly used for its calming and relaxing effects. Known to boost the immune system, aid in digestion, and reduce inflammation.
---
THERAPEUTIC COMPOUNDS
Orange Blossom Water (Citrus Aurantium Amara)
Orange blossom water has a calming effect that reduces anxiety levels and promotes better sleep. It can hydrate the skin and give it a youthful glow. It can be used as an air freshener and its natural fragrance can uplift your senses.  
Magnesium (Magnesium Sulfate)
Magnesium helps increase GABA activity promoting relaxed feelings and a more peaceful mental state. Can help you fall asleep faster, stay asleep longer, reduced nighttime awakenings, and increased levels of naturally circulating melatonin.
Malachite (Malachite Extract)
Malachite crystal is known to provide protection, alleviating negativity, and physically helping to enhance overall well-being like your immune system, your respiratory system, your liver, and your energy levels.
Eases tension in body and mind
Combats stress and evening anxieties
Inspires a deep and peaceful beauty sleep
Helps to wake up more refreshed in the morning
Suitable to use during pregnancy
Spray a fine mist on your pillow to create a calming environment for sleep. Lay down, breathe deeply and let the relaxing scents calm your senses.

It can also be used on your body and pulse points. Avoid direct face and eye contact.

Pro tip: Add to your travel bag for better sleep anywhere you go.