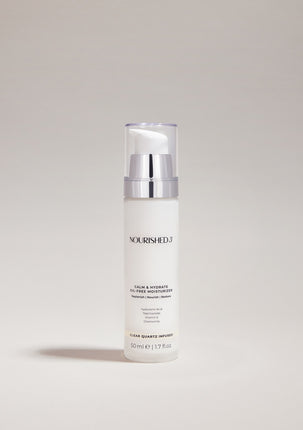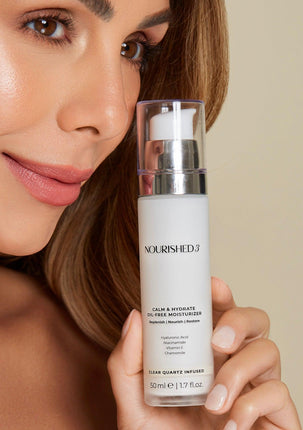 Calm & Hydrate Oil-Free Moisturizer
50ml
$59.00
Description
Key Ingredients
Benefits
How To
Soothe, hydrate, and revitalize your skin with our expertly formulated oil-free moisturizer.
Discover a meticulously crafted oil-free moisturizer designed to calm and rejuvenate even the most sensitive and blemish-prone skin. This lightweight yet highly effective moisturizer is suitable for all skin types.
Experience the deep hydration of five types of hyaluronic acid that penetrate deep within your skin layers, leaving your skin plump and moisturized.
Our formula also includes active ingredients such as ceramides, vegetable squalane, peptides, niacinamide, amino acids, vitamin E, green tea, and chamomile. These ingredients work tirelessly throughout the day to nourish, restore, and shield your skin.

This pH-balanced, fragrance-free, and silicone-free moisturizer is expertly tailored for sensitive, blemish-prone, and lackluster skin types.
MADE IN ITALY
80% Aloe Vera Juice base (Instead of Water)
As its base, our product deeply soothes and calms sensitive skin, promoting natural hydration. Its remarkable anti-inflammatory properties reduce blemishes and wrinkles, making it suitable for all skin types.
5% Vegetable Glycerin
Brings soothing relief to irritated skin while providing protection against infections and supporting the process of wound healing. Additionally, it contributes to fortifying the skin's moisture barrier, resulting in lasting hydration throughout the day.
1% Hyaluronic Acid (5 Types)
This powerful combination assists in retaining more than 1,000 times its weight in water within your skin cells, ensuring deep hydration, plumpness, and skin moisture. Hyaluronic Acid is universally compatible as it's a natural component of our bodies, free from any harm or danger. It's an essential addition for anyone seeking to sustain a youthful, healthy, and well-hydrated complexion.
1% Peptides
This chain of 5 amino acids serves as the fundamental building blocks for maintaining healthy skin. These Peptides offer protective antioxidant benefits and reinforce the strength and resilience of your skin.
1% Ceramides 
Ceramides form a protective barrier that prevents moisture loss, ensuring your skin remains well-hydrated, plump, and supple. This robust skin barrier also provides essential protection against harmful irritants, bacteria, and various environmental toxins.
1% Squalane
Reinforces the skin's barrier, aiding in long-lasting moisture retention and safeguarding against moisture loss. This, in turn, enhances the structure of the natural lipid film while maintaining well-hydrated skin.
1% Amino Acids
Promotes wound healing and the repair of damaged skin from sunlight.
Niacinamide
Assists in diminishing the visibility of fine lines, dark spots, and pores, resulting in a brighter, more even skin tone and texture. It also aids in restoring skin clarity and enhancing luminosity.
Vitamin E
Offers antioxidant advantages, nurturing, soothing, and providing protection against the harm caused by free radicals.
Chamomile
A potent antioxidant that aids in minimizing aging signs by shielding the skin from free radical damage, all while providing a soothing and calming effect to reduce redness and inflammation.
Clear Quartz Crystal
Known as the "master healer of crystals," is renowned for its ability to restore balance to your energetic and nervous system, while also enhancing the efficacy of skincare ingredients.
---
FORMULATED WITHOUT:
Artificial colors - Fragrances - Silicones - SLS and SLESP - Parabens - Formaldehydes - Phthalates - Mineral oil - Retinylpalmitate - Oxybenzone - Coal tar - Hydroquinone - Triclosan - Triclocarban
Offers deep hydration
Soothes skin irritation and aids in protecting against infection, promoting wound healing
Bolsters skin strength
Nourishes and plumps the skin
Leaves a radiant, glowing finish
Reduces the appearance of fine lines and dark spots
Shields the skin from moisture loss
Suitable for all skin types, particularly sensitive and acne-prone skin
Easy to wear
Lightweight & breathable
Perfect for layering
100% fragrance, oil, silicone and allergen-free
Safe for breastfeeding and pregnancy
Produced with a conscious approach
Non-comedogenic
pH balanced
Dispense 3 pumps of moisturizer to fingertips, and gently massage onto clean dry skin. Use morning and evening. Can be worn alone or underneath makeup.


---

Calm, hydrate and restore skin with this meticulously crafted oil-free moisturizer, specifically designed for sensitive and blemish-prone skin.

Five types of hyaluronic acid penetrate deep within the skin layers to plump and hydrate. Active ingredients, niacinamide, vitamin E, green tea and chamomile, work throughout the day to nourish, restore and protect the skin. An easy to wear, effective moisturizer suitable for all skin types.

This pH balanced, unscented and silicone-free moisturizer is specifically formulated for sensitive, blemish-prone, and lackluster skin types.
OUR PRODUCTS
We formulate our products to European Union standards, the highest standard in the world, to ensure our products are safe, non-toxic, and effective.
We exclusively use clinically proven, skin-transforming ingredients at impactful levels to make a real difference to your skin.
All of our ingredients are European and consciously sourced, insuring formulas you can trust.
We prioritize YOUR NEEDS by eliminating unnecessary fillers and additives. We substitute ingredients like water with witch hazel or aloe vera juice to deliver the highest quality in your purchase.
We recognize and value the integral connection between your skin's health and your overall well-being. Our primary mission is to assist you in achieving your best skin, both externally and internally, through excellent formulations.