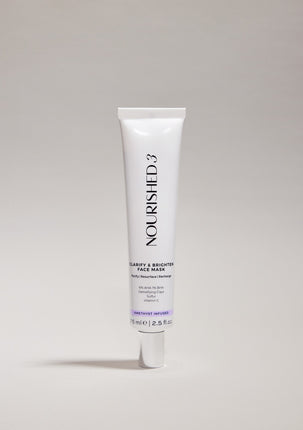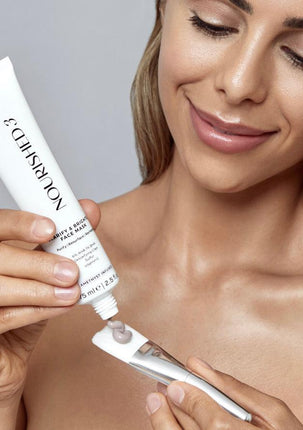 Clarify & Brighten Face Mask
75ml
$48.00 $64.00
Description
Key Ingredients
Benefits
How To
Introducing our powerful one-of-a-kind instant treatment mask, a powerful and unique solution that effectively detoxifies, resurfaces, and brightens your skin
A 6% blend of four AHA's (Glycolic, Citric, Mandelic, Azelaic, Lactic acid) & 1% BHA (Salicylic Acid) gently exfoliates to reveal smoothness of baby-smooth skin.
Stabilized vitamin C plays a vital role in brightening your complexion while reducing the appearance of hyperpigmentation and unevenness.
As you indulge in this treatment, bentonite and kaolin clays, sulfur, and zinc work harmoniously to penetrate deep within your pores, drawing out impurities and toxins, and leaving your skin clean and clear.
For that essential touch of hydration, niacinamide and aloe vera nourish and plump your skin, resulting in an all-in-one clarifying and resurfacing treatment that unveils smooth, clear, and baby-soft skin.

Vegan & Consciously Produced.
MADE IN ITALY
40% Witch Hazel Water Base (Instead of Pure Water)
Our unique formula features Witch Hazel Water as a base, soothing inflammation and calming sensitive skin.
16% Clay (Kaolin & Bentonite)
This powerful blend of clays, including Kaolin and Bentonite, effectively draws out impurities, excess sebum, and oil from your pores.  
6% AHA's (Glycolic, Citric, Mandelic, Azelaic, Lactic acid)
With a powerful mix of AHAs, this combination works wonders in retexturing and brightening your skin. These AHAs also assist in minimizing acne, fine lines, and uneven skin. They chemically exfoliate, working on loosening the "glue" between dead skin cells, to reveal brighter and clearer more even-toned skin.
1% BHA (Salicylic Acid) 
Targeting acne at its root, Salicylic Acid works deep within the pores by reducing swelling, redness, and releasing blocked pores, allowing breakouts to diminish.
3% Sulfur
Harnessing its natural anti-inflammatory and antibacterial properties, sulfur clears bacteria from your pores, reduces inflammation, and balances sebum production.
1% Zinc
A natural antiseptic and antibacterial mineral, zinc calms inflammation, speed up wound healing, and reduces skin redness.
1% Niacinamide
Reducing the appearance of fine lines, dark spots, and pores, Niacinamide creates a brighter, more even skin tone and texture while enhancing skin clarity and luminosity.
1% Vitamin C
A clinically proven potent antioxidant that brightens the skin, evens skin tone, and boosts collagen production for a more youthful appearance.
Aloe Vera
With its soothing and moisturizing properties, Aloe Vera deeply calms sensitive skin and promotes natural hydration, while also combating blemishes and wrinkles.
Amethyst Crystal
Known as the "Crystal Queen of Calmness," Amethyst possesses therapeutic, purifying, regenerating, and healing energy.
---
FORMULATED WITHOUT:
Artificial colors - Silicones - SLS and SLESP - Parabens - Formaldehydes - Phthalates - Mineral oil - Retinylpalmitate - Oxybenzone - Coal tar - Hydroquinone - Triclosan - Triclocarban
Soothes inflammation and irritations
Eliminates acne-causing bacteria
Speeds up wound healing, diminishing redness and acne scarring
Diminishes the appearance of fine lines and dark spots
Extracts excess sebum, oil, and toxins from the pores
Refines and brightens skin texture
Nourishes and plumps skin cells
Reduces swelling, redness, and unclogs blocked pores
Delivers an all-around radiant complexion
Clay based
Slow to zero dry down
Effortlessly removed without tugging at the skin
Safe for breastfeeding and pregnancy
Produced with a conscious approach
Non-comedogenic
pH balanced
Use once per week, at night. Apply an even layer to clean, dry skin, and leave on for up to 2 to 3 minutes. Gently rinse with water to reveal smoother, clearer and brighter skin. Follow up with a hydrating moisturizer and a sunscreen during the day. (Redness may occur, but will subside within 30 minutes.)


---

This all-natural, clay-based treatment, aids every skin type - reducing the appearance of scars, dryness and hyper-pigmentation as well as dissolving blemishes and clogged pores at the source.
OUR PRODUCTS
We formulate our products to European Union standards, the highest standard in the world, to ensure our products are safe, non-toxic, and effective.
We exclusively use clinically proven, skin-transforming ingredients at impactful levels to make a real difference to your skin.
All of our ingredients are European and consciously sourced, insuring formulas you can trust.
We prioritize YOUR NEEDS by eliminating unnecessary fillers and additives. We substitute ingredients like water with witch hazel or aloe vera juice to deliver the highest quality in your purchase.
We recognize and value the integral connection between your skin's health and your overall well-being. Our primary mission is to assist you in achieving your best skin, both externally and internally, through excellent formulations.